Norwegian Elkhound Association of northern California
Our mission
To encourage the breeding and registration of pure breed Norwegian Elkhounds. To develop and bring to perfection their natural high qualities. To protect and advance the interest of the breed of Norwegian Elkhounds on the bench, in the field, and in the home by holding shows and field trials under the rules and regulations of the American Kennel Club, and to encourage obedience training and the assembling and dissemination of information pertaining to the breed.
Who we are
The NEANC charter was approved by the AKC in 1973. The membership of the NEANC is made up of people dedicated to the welfare and the betterment of the Norwegian Elkhound. Our members are located in the "Greater Bay Area" of Northern California.
Our dogs fulfill many roles for us. Some do Conformation showing, others compete in Performance dog sports such as Agility and Obedience. But All of them are members of our family and are well loved.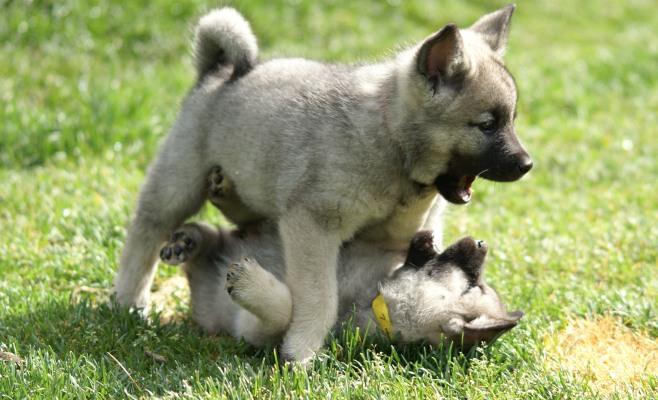 HISTORY
The Norwegian Elkhound is a very old and natural type of dog. Often called the "dog of the Vikings", the elkhound served as a hunter of large game, and as watchdogs and guardians of the homestead. The elkhound is the national dog of Norway, and has a statue dedicated to the breed in Oslo.
In Norway, these sturdy dogs are still used for hunting, and are required to have their hunting certificate in order to get their championship.

What the AKC calls the Norwegian Elkhound is called the Grahund in Norway. "Gra" for Grey and "Hund" for Dog. The Gray Dog. There are other types of Elkhound, which are not currently recognized by the AKC.
Appearance
The Norwegian Elkhound is a medium sized dog. Males are approx. 20 1/2 inches tall at the withers and weigh around 50 lbs. Females are approx. 19 1/2 inches tall at the withers and weigh around 45 lbs.
The elkhound is a hardy gray hunting dog. In appearance, the elkhound is a typical northern dog of medium size and substance, square in profile, close coupled, and balanced in proportion.
This breed is stocky and square in profile, closely coupled and well balanced. It has a broad head with medium sized prick ears, and a tail that is curled over the back. the eyes are almond shaped. They have a double coat, with an outer layer of straight, coarse grey, black, and silver hairs. The undercoat is dense, fluffy whitish insulating hair. The color is an overall grey, with dark harness markings, black muzzle and ears.
Character
Loyal, Affectionate, Courageous, Protective, Eager to Hunt, and Creative. This is a breed who is an independent thinker, but wants to be where you are.
The elkhound is an independent hunter, free of direct command to silently trail moose or bear and to hold the game at bay until the hunter can approach. He holds the game at bay by barking and being an annoyance rather than a threat.
Elkhounds are expected to have the stamina and agility to hunt day after day, in terrain that varies from marsh to hilly timber growth, and in all weather conditions.
While the elkhound is not allowed to perform its large animal hunting function in the United States, they are used for small game such as raccoons and some types of birds. They are excellent companions, and excel at performance activities such as tracking, obedience, and agility. And yes, they even herd.
Breeder referrals
This directory is published yearly by the Norwegian Elkhound Association of Northern California (NEANC) in attempt to bring potential Norwegian Elkhound owners in contact with those club members who are most willing to help locate puppies and adult dogs. The listed breeder is a member in good standing of the NEANC, but in no circumstances does the NEANC guarantee services of said breeder. The NEANC encourages any prospective owners to become familiar with our breed standard, possible hereditary defects, and breeding ethics (Documentation is available from the NEANC) prior to contacting any breeder whether on this list or not. The breeders listed here have paid a fee for this advertising and are willing to discuss puppies, breeding, some training problems, and give club information.
P: Puppies
D: Adult Dogs
S: Stud Service to approved bitches
O: Obedience Information
A: Agility Information;
H: Handling Information;
G: General Information;
R: Rescue Information
Vindarne (PDSOAG)
Dee Queen
408-926-3123
Windy Cove (PDSG)
Marie Peterson
805-466-1422
Migar (PDS)
Michele & Gary Fain
707-792-1371
Dragon's End (PSOGR)
Karen Allen
650-879-0599
Telggren (PDSG)
Sandy & Dave Smith
707-964-1035
Norwegian Elkhound Gallery
ABOUT RESCUE
Rescue is one of our ways of supporting this wonderful breed. Whether we need to "re-home" a dog, or work with the owner to help resolve issues, our goal is to have a dog who is everything it can be to the family who loves it.

A dog may be place in rescue for many reasons, rarely is it the dog's fault. Sometimes there just isn't anything the people can do, except try to find a good home for their friend and companion.

Some of the common excuses we have heard:
The kid went to collage
I got married,
he/she hates dogs
We're moving and can't take him/her
The owner died of a heart attack
We have a new baby
don't have time for it
Consider the intensive lifestyle, expense, and time involved in raising and training a young puppy.
If you feel that an older dog... already housebroken with some training and needing continued love and attention as a special family member
is something you'd consider, then maybe adopting a Norwegian Elkhound is for you.
If you are interested in adopting or fostering a dog, please contact us at Rescue@neanc.net.
Or fill out the form on the right.
A Rescue Dog:
Most likely not a Puppy
Most rescue dogs are over a year old
Less expensive than a Puppy
The NEANC Rescue fee is $75.00*
is neutered as soon as it enters rescue.
is a friend
is an animal who needs your love and care.
is not somebody else's problem
*Our costs include:
vet visits
immunizations
neutering
transportation
Donations are always welcome and appreciated.